Facebook Page Available
SEE FACEBOOK PAGE
LOCATION :

Children's Area / 2120 Young Avenue / Memphis, TN 38104

Date :

September 2016

Price :

$2 per Game or Activity / FREE Admission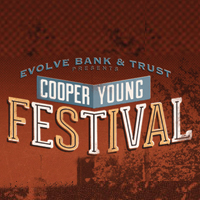 The Cooper-Young Festival, hosted by the Cooper Young Business Association (CYBA), is Memphis' most anticipated outdoor celebration.
Held in Memphis' largest historic district, the Cooper-Young Festival is scheduled for September 2016.
In its 27th year, this event has grown tremendously and is one of Memphis' most highly attended festivals. This year, over 120,000 guests will enjoy an appealing mix of art, music and crafts presented by over 400 artisans from around the country. The Cooper Young Festival is a true celebration of the arts, people, culture and Memphis heritage. While you are here, be sure to stroll our historic neighborhood which was recently named "One of the Top 10 Neighborhoods in America" by the American Planning Association.
The Cooper Young Festival is the paramount event of the summer. Bring your friends and family to enjoy a day like no other in our hip-storic neighborhood. It just doesn't get any better than this – three stages of music performed by local musicians, hand-made art, hip-hop movement stage, children's play/art area – make plans to join us today. Cooper Young is Midtown, Memphis!