Who We Are
Civitan is an international, non-profit service organization which helps children and adults with developmental disabilities. Civitan has an international research center located on the campus of the University of Alabama at Birmingham.
The local Memphis Civitan Club was started in June of 1920. It is the second oldest club in the world. The club's mission is to provide networking, fellowship, community involvment, personal development and community service, emphasizing help to people with developmental disabilities.
The Memphis Civitan Club meets on the 3rd Monday of each month at 5:30 PM AND the 4th Wednesday of the month at noon at Napa Café.  The Monday meetings are less formal, where we can eat and drink and socialize.  Our Wednesday meetings are when we have a sit down lunch with a speaker.
The Napa Cafe is located at 5101 Sanderlin, Suite 122.
For more additional information, explore below or email info@memphiscivitan.org.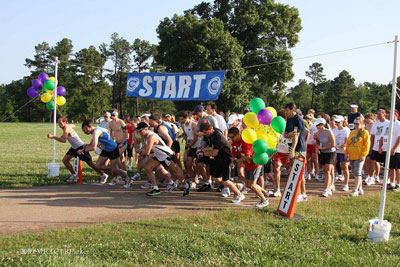 Our Visionary Project
The club's Visionary Project is the Memphis Civitan Summer Run. Each year this run raises about $30,000 to support local charities which support children and adults with special needs. Proceeds also go to the Civitan International Research Center (CIRC), which research focuses on developmental disabilities.
For information on our projects and events, check out our Annual Events page.
Civitan International www.civitan.org
Civitan International Research Center www.circ.uab.edu
Civitan's Mission Statement
The worldwide mission of Civitan International is to build good citizenship by providing a volunteer organization of clubs dedicated to serving individual and community needs with an emphasis on helping people with developmental disabilities.
Civitan's Creed
I AM CIVITAN as old as life, as young as the rainbow, as endless as time.
MY HANDS do the work of the world and reach out in service to others.
MY EARS hear the cry of children and the call throughout the world for peace, guidance, progress and unity.
MY EYES search for others to join in the fellowship and service of Civitan.
MY MOUTH utters the call to daily duty and speaks prayers in every tongue.
MY MIND teaches me respect for law and the flag of my country.
MY HEART beats for every friend, bleeds for every injury to humanity and throbs with joy at every triumph of truth.
MY SOUL knows no fear but its own unworthiness.
MY HOPE is for a better world through Civitan.
MY MOTTO builders of good citizenship.
MY BELIEF do unto others as you would have them do unto you.
MY PLEDGE to practice the Golden Rule and to build upon it a better and nobler citizenship.
Civitan Song